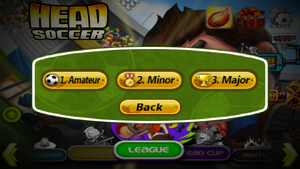 Description
Edit
League is a game mode that simulates a season of actual football. There are three different levels of the league mode: Amateur, Minor and Major. Every league has 18 matches to play. The League mode is a great way to earn points.
The players start at the 10th place. On the final match, players will play against the second-placed character (or the first-placed if the player is in the second place) with a special Costume. You must win this match, because otherwise you won't come 1st in the League. This is something not real compared to the real world in Head Soccer. For characters sharing the same amount of wins, the character with more number of goals scored wins. But in fact the last match is the most important.
Unlock Requirements
Edit
To unlock Amateur league, you must beat 33 characters in Arcade mode, or pay 100,000 points. To unlock Minor league you need to come in 1st place in the Amateur league, or pay 200,000 points. To unlock Major league you need to come in 1st place in the Minor league, or pay 300,000 points.
Character Unlocks
Edit
There are 16 characters you can unlock by doing something in League.