Character
Romania (Romanian: România) is the 39th character in Head Soccer and was added with Colombia and Luxembourg in November 2013. He is five star opponent in arcade. He is the 13th European country in the game. He is a reference to a vampire, because the first Vampire book was written in Romania and Count Dracula lived in Transylvania, Romania. He has a hard Unlock requirement, and a bad powershoot.
Appearance
Edit
Romania resembles a classical vampire, with a pale white face, long fangs/teeth, and eyes with red surroundings. His hair is parted and he has small ears. He looks like Count Dracula.
Power Shots
Edit
Air Shot: Dracula Shot
Edit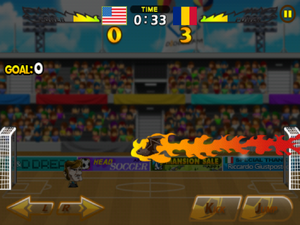 Romania turns into a bat, and flies at you. When it hits you, he materializes in front of his opponent and bites him several times, hurting you, then he turns you into blood and absorbs you, gaining a decent amount of power, almost enough to fill half his Power Bar.
Ground Shot: Coffin Shot
Edit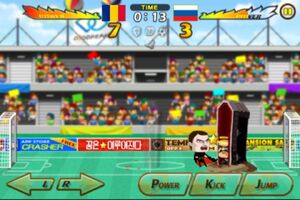 Romania will fly or zoom to you fast. If you are hit by the ball that is in his hands he puts you in a coffin, jamming and securing the coffin with 3 high nails, before jumping over it, burying his opponent, and then throwing the ball horizontally into the air.
Counter Attack: Grave Shot
Edit
Romania's Counter Attack is the Grave shot. He yells "Nightmare Shot" and then he shoots a coffin straight at his opponent, blowing him out of the stadium if it hits. The ball then bounces randomly around the stadium.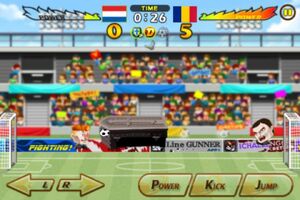 Costume: Red Boxing Glove Costume
Edit

In Arcade Romania wears a Boxing Glove Hat. This an SS Rank and will punch you away from Romania. This costume you can pay by the Costume shop after winning against the Cyborg in Survival for 1 300 000 points.
Unlock Requirements
Edit
Win the 1st place in the Major League without Power Shot or pay him for 3,800,000 Points.
Headballs Unlock = Yes ✔️
If you play against Colombia and Colombia uses his Power Shot, Romania will be naked with a Vampire Cape that he pulls out. Greece also wears a cape when he is naked.
He is the 16th European character in the game.
He is probably inspired by Count Dracula, a vampire and title character of Bram Stoker's 1897 gothic novel Dracula.
Characters

-

-

-

-

-

-

-

-

-

-

-

-

-

-

-

-

-

-

-

-

-

-

-

-

-

-
-

-
-

-

-

-

-

-

-

-

-

-

-

-

-

-

-

-

-

-

-

-

-

-

-

-

-

-

-

-

-

-

-

-

-

-

-

-

-

-

-

-

-

-

-

-

-

-

-

-

-

-