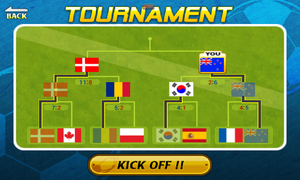 The
Tournament
is a
Game Mode
in Head Soccer that requires the player to advance through three seperate knockout stages as any of the
characters
available. It is used for unlocking other teams and grinding for
Points
, as the first win will award the player 100 points, the second one 700 points and winning the final round will award the player with a whole 1,700 points. The possible opponents are completely random. After you have cleared the Tournament, you get to choose between three 
Headballs
 to win yet another reward.
Playing Tournament won't give you many points, so if you need points, you should play in other game modes.
Character Unlocks
Edit
There are 14 characters you can unlock by doing something in Tournament.
Sometimes if you are in the Tournament final there comes a UFO. If the ball touches the UFO, it will crash and then your opponent is gone. The match restarts and you must play against Kepler 22B. If you win against him for the first time, you unlock him. However, the UFO can appear later again.